NC State athletics director Debbie Yow Q&A, part II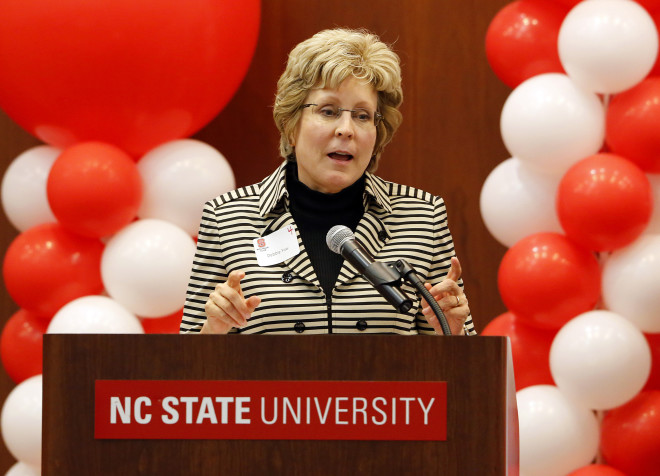 Here is part II from our recent interview with NC State athletics director Debbie Yow.
What are your thoughts on the plethora of transfers in college basketball?
"It appears to me that the transfer rate in college basketball is at an all-time high, possibility over 900 coming out of 351 Division I schools. We are close to getting an average of three per school. I hate that, but I don't think it's going to change.
"I actually believe that the day will come, sooner than we possibly realize, when student-athletes can transfer and play immediately.
"Nine hundred is an extraordinary amount of transfers, but we could double that when we get to the point where they can leave without sitting out a year.
"The concept is alive right now because of the extraordinary interest in what's good for the student-athletes' welfare.
"That's how we ended up being able to include the cost of attendance in a scholarship, which we've never been able to pay for before. It's how we ended up with the food legislation where we can feed them basically 24/7 and include all the walk-ons as well in every sport.
"The ultimate example is going to be what happens with the trust funds payments [the NCAA appealed a ruling that schools put as much as $5,000 into a trust for each student-athlete per year of eligibility for name and image licensing]. It bears watching because that is a big deal."
Why has there been such an escalation in transfers?
"I think there are different reasons for different athletes, but in general they have had people in their lives that they have trusted since they were children. We enter their lives when they are 16, 17 or 18.
"They're going to trust those individuals, those who they think have nothing to gain.
"The second factor is the extraordinary attention and hype that goes with Division I basketball these days, and the extent of notoriety and fame that the players have.
"Their expectation is that they play, and they play a lot. Sometimes they see others coming in behind them that they see as a threat. The easy out is you just leave and find a program that you think needs you right now and you won't have to worry about playing time.
"What players don't have a full appreciation for is that no matter where they go, that coaching staff is going to continue to try to recruit over them. That's what they are paid to do, to go get the best people, students and players that they can. There are no guarantees.
"It feels good to transfer, be re-recruited and be told that you are the man, but it does not always turn out that way. We have examples of individuals who have left NC State and found that out the hard way."
How will incoming basketball center Omer Yurtseven's case before the NCAA clearinghouse be handled?
"We are reviewing Omer's professional playing time, and I'm not sure people understand that he can play professionally and still play in college. It all comes down to how much money did you accept, what were your expenses and how does it look.
"This is not about his academic credentials. He is a brilliant student. We are just looking at the other parts. We gather all the information, just like we would for any international student.
"We have 38 student-athletes who were not born in the United States. This is not a new process for us, but it's an extensive one. We have to make sure that we are not wrong about the material we have to provide to the NCAA.
"Then they'll make a ruling on it. I think Omer feels confident that this will all work out. I really don't know yet. It takes time to gather information from Turkey. We might at some point send someone to Turkey if we have to, but we have not reached that point, yet."
What were your feelings about women's basketball surprisingly not getting an NCAA Tournament bid?
"They belonged in the NCAA Tournament, undeniably. There is no justification for them being left out, absolutely none. I talked to the committee chair the night of the selection show, and again the next morning we communicated.
"Every answer they gave me I could refute quite easily. We deserved to be in, period. It was just a stunning injustice for those young women, and something they'll never forget.
"The only silver lining for this is they will think about it every time they take the court and know they can't afford to leave anything undone. They cannot afford to slip up at the end and lose to Louisville and Syracuse. Those were the games that ended up costing us so much.
"Yet they still, by far, without question, deserved to be in the tournament. The ACC did not have a women's basketball representative on the committee. It hurt us. We did not have anyone in the room appealing for us."
How did you think coach Wes Moore and the players handled the disappointment and will respond?
"I think he was stunned like they were. It's the recognition that it's reality, and you are not going to change it.
"What are you going to do about it? My hope is that they are going to get very angry about it and determine in their hearts this will never happen to them again and won't allow it to be even close.
"We have a top-20 recruiting class coming in this year and the year following. We are going to be back in Reynolds. It's going to be fun to watch them play."
What were your thoughts about baseball, which came close to getting to a Super Regional?
"Elliott [Avent] just finished his 20th season, and we're going to go forward. It was very unfortunate that he was not available to coach the team in what could be characterized as the most important game of the season."