NC State athletics director Debbie Yow Q&A, part III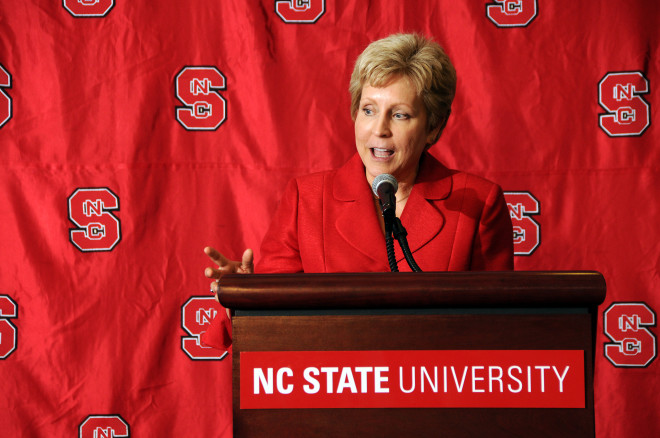 Here is part III from our recent interview with NC State athletics director Debbie Yow.
Wrestling coach Pat Popolizio was named the National Coach of the Year by FloWrestling, and swimming coach Braden Holloway's men's team finished fourth at the NCAA Championships. What are your thoughts on the pair, who were both hired by you?
"They have both exceeded our expectations at this juncture of their work here.
"In wrestling, we looked at the top 25 for a program that didn't belong. We found Pat's program at Binghamton, which — I think — was ranked in the top 10. We found out that he had only half of the available scholarships and was still doing that. We said get him down here quickly for an interview.
"I also wanted a strict disciplinarian, and he has been that. Although he loves his wrestlers, it will be done Pat's way. I appreciate that. His values fit us to a 'T.'
"With Braden, there was, on the surface, more of a risk — he had never been a head coach. He was the associate coach at Virginia Tech. We looked at the success at Virginia Tech and knew Braden was very much a part of that.
"We knew that he and his wife both swam for us, which was icing on the cake. I want to hire the best coaches for NC State, period. If they happen to have history with us all the better, but that's not the driving force with any hire. We decided to take a chance, and it has been amazing.
"I would have a hard time putting into words how much respect I have for what he and his staff have achieved in a short period of time. I'm not sure I've ever seen anything quite like it.
"We're blessed that they are here, and hope that they are always here, and that we can meet their needs and most of their wants."
When you have coaches achieving that level of success, what are the biggest challenges you have in retaining them?
"Coaches leave for the following reasons: for more money: for a better title, an assistant coach becoming a head coach as an example; and for the opportunity to do something special.
"If a coach said I have an opportunity to win a national championship at another school and I can never get it done here for whatever reason that would be a reason to go.
"The part we play is being sure that they have everything they need and as much as possible that they want so that he or she doesn't ever have that feeling about being here.
"I would say it will be more challenging here, but that doesn't mean it can't be done. Braden's already proven that with what he achieved.
"We approach them all individually. They all have different personalities and different priorities. You have conversations and talk with them about it. You make sure they know that they are appreciated by extending contracts and raises."
You have a new volleyball coach in Linda Hampton-Keith. What are your first impressions?
"She's a whirlwind, and so is her staff. She hired two former head coaches in college volleyball, which is very smart of her. We had our first ever top-20 volleyball recruit sign with us. She did that within about three weeks of coming here.
"They are off and running, and will have the first event in the new Reynolds, hosting a tournament."
Reynolds Coliseum is getting close to being finished. What's the latest on the progress?
"It's everything I hoped it would be right now. Every idea that we had, that we took years to discuss, to try to determine the look and feel of the place, molding the best of the old and the best of the new, has been implemented.
"It's not completely done, but I was in recently to take another tour with Michael Lipitz who is the chair of the building committee and associate AD here for internal operations. He is doing a tremendous job leading that construction project.
"The strange, oblong shape that coach Everett Case required so that we could get more seats in Reynolds than Duke at Cameron Indoor Stadium — the buildings have the same footprint plan — has played to our advantage.
"We could slide the court to the side and then create this massive space on two levels for the Walk of Fame and History. There is nothing like it in the United States. I don't think anyone would consciously build a building in this way for that, and I've never seen anything like this.
"We've taken full advantage of that shape to fit everything in it that we could jam into it for the Walk of Fame and History."
What are the plans for the grand opening?
"The ribbon-cutting is the same night for the athletics' Hall of Fame induction ceremony, which is Sept. 16, a Friday evening. We can't do it any other way because they will be working on this right down to the wire.
"We have so many of the Wolfpack family coming back for that Hall of Fame ceremony with the 1974 championship team. We're expecting at least 1,000 people, probably 1,500.
"It's going to be special."
You mentioned how volleyball just signed a top-20 recruit and women's basketball has back-to-back ranked classes. Wresting also signed the No. 1 recruiting class in the country. How have the Reynolds Coliseum renovations contributed to this success?
"There is no question that 17-year-olds care about their facilities and want to be proud of where they are competing. Reynolds has been very helpful in that area.
"They also care about who the coaches are, and it's very clear that we've hired a number of the best. Our student-athletes are never going to be disappointed about their experiences here. It's a combination of those.
"We have seven people who are our sports supervisors. On a day-to-day basis, they are committed to meeting the needs of their coaches.
"We just lost one of them, Sherard Clinkscales. He was hired to be the athletics director at Indiana State. I'm proud of that.
"We've hired Raymond Harrison from Texas A&M. He had also been at the University of South Carolina. He's a very experienced senior-level administrator. He's going to be very good for us and bring some new ideas.
"Sherard and I have been texting back and forth. He's learning what it is to be an AD and drink water from a fire hose."
How many current athletics directors have worked for you?
"I probably have 10 or 11. I've had one retire. It's fun to see them succeed. I have two to three more here right now that will become ADs probably in the next few years.
"I don't want to see them go, but I am going to help them because that's what I should be doing."
With Reynolds ready to wrap up, are there any new projects on the horizon?
"Absolutely, I am focused on right now with finishing the plans for Case Commons. We have not started construction yet. That's another piece for our success in recruiting. Coach Gottfried has a picture of the residence hall in his office. It's just lovely.
"I am thrilled that the basketball players are going to be back on campus. We can keep better tabs on who is coming in and out of that building as related to agents."
What is the state of the budget?
"We are going to pay all of our bills again. It's tight every year. We've managed to increase our operating reserves from $1 million to $5 million over the last six years, but it could have easily been $15 million. We have spent $10 million ourselves in athletics. Whether it's locker rooms or office suites, these things add up.
"Instead of going to the Wolfpack Club to ask for that help, we've done it out of our own revenues and operating budget. That meant it wasn't available to put into reserves. We've literally been able to save $15 million over the last six years, but we only have five of it because we spent the rest of it on the teams and coaches.
"It's all about elevating the programs, and you have to have the right personnel here and reasonable facilities. We had a boom in construction here in the late '90s, early 2000s, and now we are having another one.
"Sometimes people will say to me, 'Will there ever be an end to that?' I say, 'No, that's not how it is.' Our coaches are watching everything that others have. It isn't that we have to better than them, we just have to have a critical mass.
"I am a big believer in overachieving. We don't have to have the best of the best, but we at least need to be in the ballpark to compete."
To that end, what will be the impact of the new Adidas apparel deal?
"For us, it was very significant. It's six years. I think they would have preferred eight, and I would have preferred four, so we settled on six.
"We wanted to keep our options open because I want the next AD to be able to have those opportunities to do these deals again and hopefully get even more money."
There has been a noticeable rise recently in the costs of tuition for scholarships along with the added benefits. How much of a challenge is that presenting?
"Cost of attendance is part of the scholarship, and the Wolfpack Club is paying that part. Athletics is supplementing it because ours is so low, it's only $2,700 a student-athlete so we added $1,300 to it from athletics. The food is part of the scholarship, so it is being taken care of by the Wolfpack Club as well.
"The potential trust fund payments will belong only to athletics. That is not part of the scholarship. The Wolfpack Club exists to raise scholarship dollars and take care of the facilities. They cannot take care of all the facilities, but they take care of the lion's share."
Are there any other rulings or proposals that could affect the budget?
"Absolutely. There is a discussion at the national level right now about reconfiguring the payouts for the NCAA men's basketball tournament and including academic metrics as an element. Penalties would be implemented where you wouldn't get as much money if your team did not do well academically or you would get more if you do really well.
"That's worth watching."
Any new updates on the ACC Network?
"I've always been bullish on the ACC Network, even though I don't know anything specifically about when it could happen. Nothing about that has changed.
"I do believe it is going to happen. I know there is a lot of publicity with the Big Ten and SEC networks. Ours is coming.
"You need two things: more visibility for everybody, especially the Olympic sports, and more money. With the kind of money that the SEC schools and Big Ten schools are making, it would bode well for us to have an operational, linear network and begin to see what kind of distribution and money we can get for that.
"I will tell you this, there is another construction project and it's a broadcast studio for the ACC Network. That would tell you I am very bullish on the ACC Network.
"This will be housed inside of the Murphy Center because we actually have space in there. When Chuck Amato was our coach and the Murphy Center was built, they built a racquetball court, which is now used to store stuff.
"We can reconfigure that area into an amazing studio and stay inside the envelope of the current building. We have to do that and buy the HD cameras.
"We brought the HD cameras and equipment we needed for Reynolds, which will have a control room right away. Whenever the ACC Network becomes a reality, we'll need more HD cameras and other equipment over in the Murphy Center. That project is $6 million, and athletics is carrying that.
"I'm not asking the Wolfpack Club staff to fund raise for that. We haven't started any construction yet, so we have time to figure it out."
Are there every any concerns about the impact of cable-cord cutters?
"Not really. They have two sources of revenue: subscription rates and advertising. ESPN has experience in this. I think when you partner with them you should feel secure in the future.
"They will figure it out. They know how to make money."
How have the student-athletes done in the classroom?
"I think we have a new all-time high in graduation success rate, which is a measure of those who stay and finish their eligibility here. In some ways that makes it the most important academic measurement.
"Jonathan Addison in track and Nick Gwiazdowski in wrestling were both named the ACC Athlete of the Year and ACC Scholar Athlete of the Year in their sport, which is rare to be both the best athlete and student. I am quite proud of that."
There have been headlines at several schools, Baylor, Stanford, Tennessee and Vanderbilt, regarding domestic violence among athletes. What have you learned from these and what can/should NC State be doing in this area?
"NC State has had for years a system in place that we continue to follow. We have Title IX training for domestic violence, or anything like that, every single year. The entire staff, all coaches and all administrators, go through a refresh, if you will, because we have been trained earlier.
"All of our coaches understand that if and when we become aware of something we share it with the campus, the campus police, the Title IX coordinator, the legal office, a number of individuals that we would touch base with, and then we would step away.
"It's not realistic or humane to say to a coach you can't talk to your athletes. You would want them to talk to your athletes, but only to encourage them to take care of themselves. For instance, the student-athlete may want to know if they need to get an attorney, and the answer to that is always yes. You want to talk to their parents about that, then step away from it.

"We don't interview people; we don't investigate it. Yes, as a female, I am particularly sensitive to this and continue to be, but I would have to say for our male coaches they don't need much prodding. They get this.

"I know the system is solid, and as long as we stay within the system we would never be guilty of trying to manipulate an outcome."
Have you met Tuffy II, the puppy who will be the next live mascot at Carter-Finley Stadium?
"I met Tuffy II by way of email. We had two puppies we had to choose between, and he was my choice. He doesn't know me very well, but I did choose him.
"Tuffy's owners talked to us about it — Tuffy is getting older and at some point will retire. They shared the puppy with everybody on Father's Day.
"I saw it on video when everybody else saw it. He's really cute. I was looking at him thinking I hope I picked the right one. I think our fans will like him."